Think it's not possible? Think again.
Here's how some of the world's most famous saxophonists saw it happen for themselves.
One Legendary Teacher, Many Legendary Students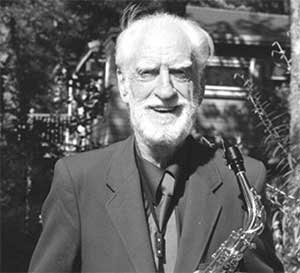 If you've never heard of the famous sax teacher, Joe Allard, you have almost certainly heard of his also-famous students - names such as David Liebman, Michael Brecker, Eddie Daniels, Bob Berg, Eric Dolphy, Harvey Pittell, and so many others.
The One and Only Thing That Joe Taught
Unlike your average saxophone teacher who focuses on multiple areas, like tone, technique, exercises, etudes, written repertoire, and maybe improvisation, Joe focused on one, and only one skill...
A natural approach to saxophone sound production.
That's it.
No method books. No transcriptions. Nothing else, just his simple approach to sound production, taught with a degree of depth that few teachers have ever approached.
The Effect of a Laser-Like Focus on Sound
Lessons with Joe involved diving deep into areas such as the role of the vocal cords, the best use of the bottom lip, the function of edge of the tongue, and many other topics not covered by the vast majority of sax teachers.
Judging by his students, it becomes clear that Joe's methods produced results at a level achieved by few (if any) other saxophone instructors.
Unlocking the Mystery Behind the World's Most Recognizable Saxophone Sounds
Because Joe's teaching style was sort of like that of a wise "zen master", there was sometimes that challenge of immediately understanding how to apply his highly-sophisticated techniques.
So decades ago, when renowned saxophone heavyweight, David Liebman originally set out to create his own sax sound method built on top of the foundation of his lessons with Joe, he actually worked alongside Joe to "translate" those complicated concepts into a step-by-step, practical course of action that sax players could immediately take into the practice room, and beyond.
Out of that effort was born the seminal instructional video, Complete Guide to Saxophone Sound Production.
Taking a Classic Course to the Next Level with a Career's Worth of Added Saxophone Sound Wisdom
Now, 30 years after the release of Complete Guide to Saxophone Sound Production, you can imagine that someone like David - a master player and teacher, always growing and never content to rest on his laurels - has advanced his teaching concept even further, based on those decades, both on the bandstand, as well as with students worldwide.
Luckily, his life's work in the realm of teaching saxophone sound ("the complete story" as Lieb describes it) has now been memorialized on video. Over the course of an intimate workshop held at NYC's Michiko Studios, along with supplemental video instruction that dives even deeper into the material from the workshop, he shares the concepts and exercises that he's seen generate the most powerful results for students looking to realize their best possible voice on the instrument.